Post by Solar Force on Dec 13, 2014 16:00:15 GMT -5
Hi, I wonder if anyone here has considered
Star Wars from an eastern yogic perspective
?
Here's a few examples:
Similar Narrative of several eastern works
The general narrative is quite similar to many Hindu works such as the Bhagavad Gita, for example, where we have Arjuna, a legendary supernatural figure, who is reluctant to go into war against his brothers, even though they are considered 'evil' - the battle of Kurukshetra, as it's called - and we also have his spiritual mentor, Lord Krishna, who offers him sage advise and tries to press upon his student the necessity actively fight that which is evil. This is very reminiscent of the scene's where Luke Skywalker is told to face Lord Vader by his spiritual teacher Obi One Kenobi and receives advice and encouragement to fulfil his destiny - rather like an Initiation.
The Yogic Symbology of the Lightsaber
It's readily apparent to some individuals with a deep interest in mysticism and yoga that the Lightsaber, while immensely interesting in themselves, might also be symbolic for the Inner Spiritual Power which resides in the base of the spine. The ancients yogi's called this Kundalini. When through certain yogic techniques this energy is activated and brought up the spine it must appear, from a rather clairvoyant perspective somewhat like the energising Lightsaber. The different coloured sabres represent the different energies being cultivated by the yogi Jedi's as Kundalini begins to operate through them. The red sabres symbolising the energising power of, say, the Sexual Centre, the Green Lightsaber for the Solar Plexus, the Blue for the Throat Centre etc. This could be an entire topic in itself!
Force Nexus
Now, this is something I've only discovered today. The 'Force Nexus', according to Wookiepedia refers ''
to any location where the Force, or any particular aspect of the Force, was unusually stron
g.'' This equally applies to many places in the East, and indeed other places around the world today. Let's take a brief look at a few:
Banaras (Varanasi), India - is considered as one of the most Holy places in all of India because certain yogi's believe that this place has been 'magnetised' by the many sages (Jedi's) who lived, teach and pilgrimaged there throughout the centuries.
Bodh Gaya, India - is considered a 'Force Nexus' to many people because it was here that the Yogi Master (Jedi Knight) Gautama Buddha meditated and became Enlightened.
Rishikesh, India - is yet another place made famous for it's legends of mystics, saints and sages throughout the ages. It's considered an important pilgrimage place for certain yogis because they believe this place too, to be similarly magnetised by many centuries of yogi's meditating, doing tapas (Yogic Austerities) and living extremely simply amidst the harsh climate (like Obi One Kenobi on Tattooine).
Many yogi's in India find it auspicious to meditate outdoors amidst natures natural temple of trees, Himalayan heights or caves because these too have a certain natural 'force' which they can connect with and utilise to great effect as they try to become at one with nature and Her Laws.
Examples of Real Life Jedi Masters!


Sri Yukteswar
(10 May 1855 – 9 March 1936) Definitely a
JEDI MASTER
!
This Man was beyond doubt, to me, a real Jedi! Had I known he was alive today I would have immediately left Great Britain to seek his oft times harsh training! Alas, he passed away into the force long before I was born. There's many very interesting accounts of this Man's unique abiltiies in a book called Autobiography of a Yogi by his disciple Paramahansa Yoganada.
www.crystalclarity.com/yogananda/chap43.php
You'll notice in Chapter, 'The Resurrection of Sri Yukteswar' we again have a somewhat similar occurrence in Stars Wars with certain Jedit coming back from the 'dead' in a different body! We've heard stories like these for Millenia, who knows they may be true!!!!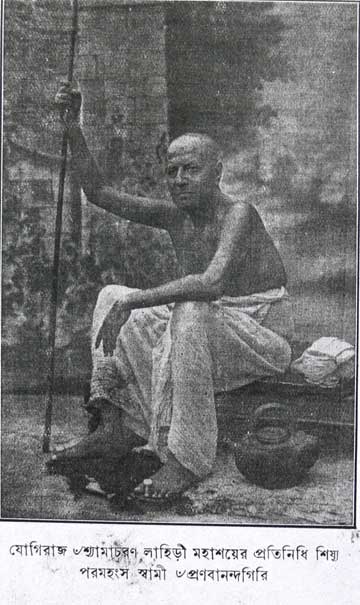 One of the few pictures of
Swami Pranabananda
, also known as 'the saint with two bodies', in Autobiography of a Yogi. This incredible Man, according to Paramahansa Yogananda, could materialise another body for Himself, while in Meditation! This second body, or 'Shade' was witnessed by several people! I'll leave a link for your amusement/education, whichever you choose.
www.yoganiketan.net/swami-pranabananda-paramhansa/life-sketch-of-swami-pranabananda/enter.html
and another great source can be found here:
www.crystalclarity.com/yogananda/chap3.php
This Man was certainly a real
JEDI MASTER
! I don't know if there are any Jedi that have similar abilities to Swami Pranabananda. Interestingly the first part of his monastic name is 'Prana' which means 'Force!'
Shyama Charan Lahiri (September 30, 1828 – September 26, 1895), best known as
Lahiri Mahasaya
, was an Indian yogi and a disciple of Mahavatar Babaji. If anyone was a
JEDI MASTER
, it would be Lahiri Mahasaya and his Guru, Lord Babaji! There's a fair amount of information about Lahiri Mahasaya so here's a few worth checking out:
www.crystalclarity.com/yogananda/chap35.php
and
www.ananda.org/about-ananda-sangha/lineage/lahiri-mahasaya/
.
Ram Gopal Muzumdar
, also known affectionally by Paramahansa Yogananda, as 'The Sleepless Saint'.
www.crystalclarity.com/yogananda/chap13.php
This Yogi was so spiritually advanced that he never needed to sleep, as we know sleep anyway. He would spent much of his time in true deep Meditation - which is a state of conscious 'death' and would come out of this state quite possibly still in a Samadhic condition. Samadhi is really a yogi word which refers to the higher states of consciousness. I can go into this subject deeper if anyone's interested! This Man was a
JEDI MASTER
!
Here's another prospective real-life
JEDI MASTER
! His name was
Nagendra nath Bhaduri
, or simply,
Bhaduri Mahasaya
, also known as the "The Levitating Saint" by Paramahansa Yogananda.
www.crystalclarity.com/yogananda/chap7.php
Here's another Yogi or
JEDI MASTER
! His name was
Mahendranath Gupta
(also famously known as M and
Master Mahashay
). He was a disciple of another very great Yogi Saint, rather similar in some ways to Master Yoda, Sri Rama Krishna! As with all of these Yogi Masters they could all display miraculous powers, although they chose, for reasons best known to themselves, to 'hold-up' their Force Powers so that they could work among mankind with the higher siddhi's (Powers) such as Peace, Self-Reliance, Wisdom, Love and Compassion and so forth.
I could list many more JEDI MASTER who graced this Planet if you're interested! Anyhow, there's quite a bit here so I'll cut myself off short and see what other think about this.